We are Here For You!
There are many benefits to participating in psychotherapy groups, but now more than ever groups can help! With children and parents navigating the challenges of the pandemic along with everyday life, CGC has several groups being offered via ZOOM.
If your child is already receiving services from CGC, please ask your clinician for more information. If your child is not already in treatment with CGC, please call 203-324-6127 for more information and to schedule an initial intake appointment. Space is limited.
Social Skills Group
This group will run for an 8-week cycle, and is a closed group once started.  Group will provide a safe therapeutic environment for kids between the ages of 7 and 9 year olds to learn and implement social skills through the use of discussion, games and activities. The overall goal for group is for children to learn ways to express their thoughts/feelings in a healthy way and to support them in building strategies for increasing social connections. Topics which will be addressed will include: active listening, verbal and non-verbal communication, friendship, and managing conflict.
Day/Time Wednesdays 4:15-5:00 PM via ZOOM
Start date TBD
Gender, Diversity, & Resilience (GDR) Identity Group
These groups for 11-14 year olds and 15-18 year olds are part of CGC's Gender, Diversity, & Resilience Program, and are a safe space for transgender and gender diverse youth to explore identity issues and build resilience. Topics addressed include gender dysphoria, navigating school and family relationships, intersectional identities, and distress tolerance skills.
11-14 year olds  Mondays 4-4:45 PM via ZOOM
15-18 year olds  Day/Time: Thursdays 4:30-5:15 PM via ZOOM
GDR Parent Group
This group is designed for caregivers of transgender and non-binary youth of all ages. This group provides support and education on issues related to gender diversity, dysphoria, identity and intervention options in a safe and judgmental free environment to exploring caregiver beliefs and values related to your child's experiences.
Day/Time: Wednesdays 5:30-6:15 PM via ZOOM
Middle School Process Group
This group provides a safe, therapeutic environment for youth in grades 6th through -8th to develop better interpersonal skills and more positive relationships, examine basic identity questions, and change negative patterns of thinking and behavior. Topics addressed include: self-awareness, friendship skills, acceptance of peers, resisting peer pressure, conflict resolution, healthy coping skills, and making safe choices.
Day/Time: Wednesdays 4:00-4:45 PM via ZOOM
DBT Skills Group
These groups will support members in learning and implementing skills and strategies from Dialectal Behavioral Therapy (DBT) for Adolescents.  Groups target kids in grades 6th-8th and 9th-12th struggling with emotional dysregulation and difficulties managing interpersonal relationships. The group will be structured into different skills modules such as: mindfulness, distress tolerance, emotion regulation and interpersonal effectiveness.  Skills modules last about 6-8 weeks and new members can join group at the beginning of each module.
Middle School group: Day/Time: Wednesdays 5:00-5:45 PM via ZOOM
High School group: Day/Time: Thursdays 4:00-4:45 PM via ZOOM
Coping with High School Anxiety Group
This group for 14 to 18 year olds provides a safe therapeutic environment in order to build coping skills to combat social anxiety and to change unhelpful patterns of thinking. Topics covered include: challenging your self-critical voice, exploring the impact of anxiety on functioning, and expanding your toolbox of skills when it comes to managing anxiety.
Day/Time: Mondays 4:00-4:45 PM via ZOOM
Art Therapy Group
This group is for teens between the ages of 14-17 who are struggling with depression, anxiety or social interactions, and/or past trauma. We will utilize art therapy interventions to support feeling expression/develop use of art as a coping strategy. Participants will learn to use art and other relaxation strategies to manage difficult feelings and will learn ways to use art as a form of communication when words cannot adequately express thoughts and feelings. All that is needed is access to paper and a drawing material (at least 8 colors-e.g., markers, crayons, colored pencils, etc.).
Day/Time: Fridays 3:15-4:00 PM via ZOOM
Parent Support Groups ( English and Spanish)
These  groups are meant to provide parents with a safe and supportive environment to explore topics related to their child's treatment. Themes may include issues related to school, adjusting to COVID, immigration issues, managing behaviors at home or stigma related to engaging in therapy and mental health services.
Estos grupos de procesos están destinados a brindarles a los padres un lugar seguro y de apoyo para explorar temas relacionados con el tratamiento de sus hijos. Los temas pueden incluir problemas relacionados con la escuela, ajuste a COVID, problemas de inmigración, manejo de comportamientos en el hogar o estigma relacionado con participar en terapia y servicios de salud mental.
Conducted in English:  Tuesdays 6-6:45 PM via ZOOM
Conducted in Spanish/Reunión en español: Mondays/lunes 6-6:45 PM via ZOOM
Raising My Child Without Limits/ Criando a Mi Hijo Sin Límites
Are you the caregiver of a child with special needs or developmental delays?  There are many parents like you, trying to find the best way to raise their special child.  Join us and meet other caregivers who want to help their children lead their lives without limits.  This parent support group was created for any caregiver of a child diagnosed with a special need, such as Autism, Down Syndrome, Sensory Processing Disorder, intellectual disability, language delay, gross/fine motor delays, etc. This group will be conducted in Spanish.
Tiene un niño con necesidades especiales o problemas del desarrollo?  Hay muchos padres como usted, tratando de encontrar la mejor manera de criar a sus hijos especiales.  Reúnase con nosotros, y conozca otros padres que entienden lo que es querer criar a sus hijos para que vivan una vida sin límites.  La jornada de padre no se tiene que vivir a solas. Este grupo es para cualquier persona que cuida de un niño diagnosticado con alguna necesidad especial, como Autismo, Síndrome de Down, Trastorno de Integración Sensorial, discapacidad intellectual, retraso del habla, retraso del desarrollo motor, etc.
Day/Time : Tuesdays/Martes 3:45-4:30 PM via ZOOM
Building Your Toolbox
This group provides a safe and therapeutic environment for children ages 5 to 7 to practice skills to benefit their behaviors and develop additional skills through the use of play, games, and activities in a group setting. During their experience, each child will be able to explore and express their emotions with support from a positive social group environment.  Each week children will add to their "Tool Box" and utilize these helpful tools during everyday difficulties. The overall objective is to improve participants' use of coping skills and emotion regulation through group therapy. Topics that will be addressed include: understanding and responding to intense emotions, managing impulses, and utilizing their tool box effectively.
Day/Time: Tuesdays 4:30-5:15 pm IN-PERSON at CGC, 103 West Broad Street
Building Relationships Group
This interpersonal group provides children in 4th and 5th grade a therapeutic setting in which to discuss challenges related to school, family, friends, and more. The overall objective is to help group members feel more confident in their abilities to manage strong emotions and difficult situations. This group therapy format provides members with the opportunity to practice identifying and communicating their emotional and relational needs in a safe and supportive environment.
Day/Time: Mondays 5-5:45 pm via Zoom or Wednesdays 5-5:45 pm via ZOOM
Teen Talk
Being a teen is tough. From the pressures of school, friendships, romantic relationships, family dynamics and more, teens face many unique struggles. As a result, they can also benefit from peer support to reinforce they are not alone in these common yet challenging issues. The purpose of this group is to create a safe and brave space for teens to process these stressors, receive feedback, and gain support in navigating this tricky time in their lives. This group is ideal for 15-18 year olds of any gender identity looking for others that can relate to their experiences and struggles.
Day/Time: Tuesdays 6-6:45 PM via ZOOM
Building Who You Want to Be
This group is designed to help children between 5th and 8th grade to develop their own view of themselves now and who/how they want to be in the future. This will done through the use of fictional characters, activities, video clips and discussion amongst peers.  Topics that will be addressed include: self-awareness, mindfulness, identity, acceptance, self-compassion, barriers to self-love, influence by others and the world, values, interests, breath work and more.
Day/Time: Tuesdays 4:30-5:15 PM via ZOOM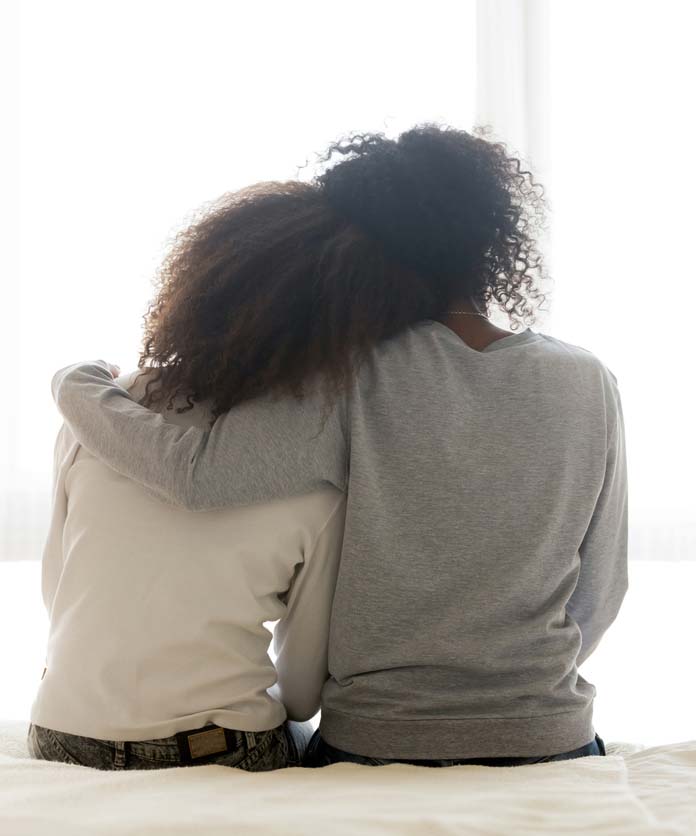 Physical distance doesn't mean isolation. We are here for you!